DARK VISIONS OF THE FUTURE
SCI - FI MOVIES THAT FORETELL A FAILURE OF THE SYSTEM
AND THE RESULTING REVOLUTIONS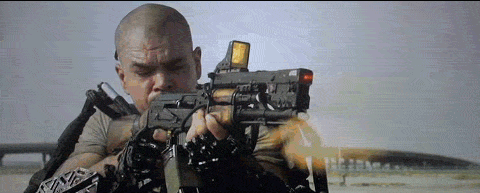 Much of the powerful Science Fiction throughout history has been instrumental in conveying a subconscious understanding of hidden realities - as well as the ominous realities to come.
Today we live in a world of "Haves" and "Have Nots," the legions of the poor continue to grow while the wealthy consolidate their wealth.
The two films below portray a future where a small elite use technological means to lead the rest of humanity towards oppression and doom. Yet these movies are both cases where the system is simply no longer working; It is broken, and the anger bubbling beneath the surface can no longer be contained.
When oppression becomes unbearable, revolution is inevitable.
ELYSIUM (2013)
ELYSIUM - Official Trailer (HD) - Watch on YouTube

Elysium itself refers to the Ancient Greek idea of the Elysian fields in the afterlife - a place of eternal happiness and bliss. In the movie humans are divided into to desperate groups - the "haves" and "have nots". A majority of humans live under oppression and brutality on Earth in a system that is no longer working. Yet the rich live above Earth in their own space station - a place called Elysium; There is no disease, war or violence in this place. Yet this bliss will not last for long. Eventually the humans oppressed on Earth will crack under pressure and develop their own tools to infiltrate the system - and then once this happens, the residents of Elysium will be forced to reconcile the brutal reality that they have created.
OBLIVION (2013)
Oblivion Official Trailer - Watch on YouTube

Jack Harper is one of the lone repairmen stationed on Earth in the year 2077. He is told that an alien invsasion destroyed most of the planet, but the humans won the war and evacuated. Yet as Jack is repairing the planet he discovers a dark secret - he discovers that his superiors have been lying to him and that the truth of what happened on Earth is a completely different story. Sometimes deceit is the greatest form of oppression and the most powerful way to fight back is to discover and unleash the truth.
RELEVANT LINKS
Artistic Visions of the Future
Visions of the Future and Future Watch Studies
Earth 2100: A Dire Look at Humanity's Future