HBO'S EXTERMINATE ALL THE BRUTES

GENOCIDE, RACISM AND
THE FOUNDING OF AMERICA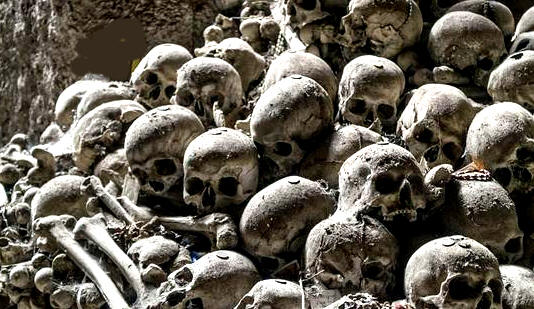 We don't agree with all aspects of this series but we do feel it is highly relevant in showing the importance of genocide in American history. Indeed, this HBO series is a landmark in the history of American television. Never before has a major commercial network put out a series that is so severe in its indictment of American genocide. The mini-series is directed and narrated by the acclaimed film maker, humanitarian and activist, Raoul Peck. This series is guided by the book written by Sven Lindqvist, Peck also used Michel-Rolph Trouillot's book analyzing historical narratives,
Silencing the Past: Power and Production of History
and book by historian Roxanne Dunbar-Ortiz called
An Indigenous Peoples' History of the United States
. Peck is well-known for using his own experiences from growing up Haitian along with characters of historical and political events to elucidate societal issues. Through his works like I Am Not Your Negro and Lumumba, Peck strives to bring viewers closer to grave matters and tell the expanded story of certain historical events. Both Peck's and Lindqvist's pieces thoroughly discuss the darkest hours of humanity and the implications of our past, applying a creative addition to the debate of how the U.S. and other European nations rose to power. Both Peck's and Lindqvist's pieces adopted their title from the novella
Heart of Darkness
by Joseph Conrad, addressing the intersection of imperialism, religion and race. One of the most famous lines of this piece is "exterminate all the brutes!".
WATCH EXTERMINATE ALL THE BRUTES HERE
EXTERMINATE ALL THE BRUTES BY SVEN LINDQVIST BOOK
HEART OF DARKNESS BY JOSEPH CONRAD
SILENCING THE PAST: POWER AND THE PRODUCTION OF HISTORY BY MICHEL-ROLPH TROUILLOT
AN INDIGENOUS PEOPLES' HISTORY OF THE UNITED STATES BY RXANNE DUNBAR-ORTIZ

RAOUL PECK
YOUTUBE CLIP OF RAOUL PECK'S STATEMENT OF INTENT FOR MINI-SERIES
THE NEW YORK TIMES INTERVIEW OF PECK

GENERAL BACKGROUND WORK
DEATH TOLL FROM THE SLAVE TRADE
THE NEW YORK TIMES 1619 PROJECT
AMERICAN GENOCIDE: A MODEL FOR NAZI GENOCIDE? A LOOK AT DOCUMENTARY HISTORY